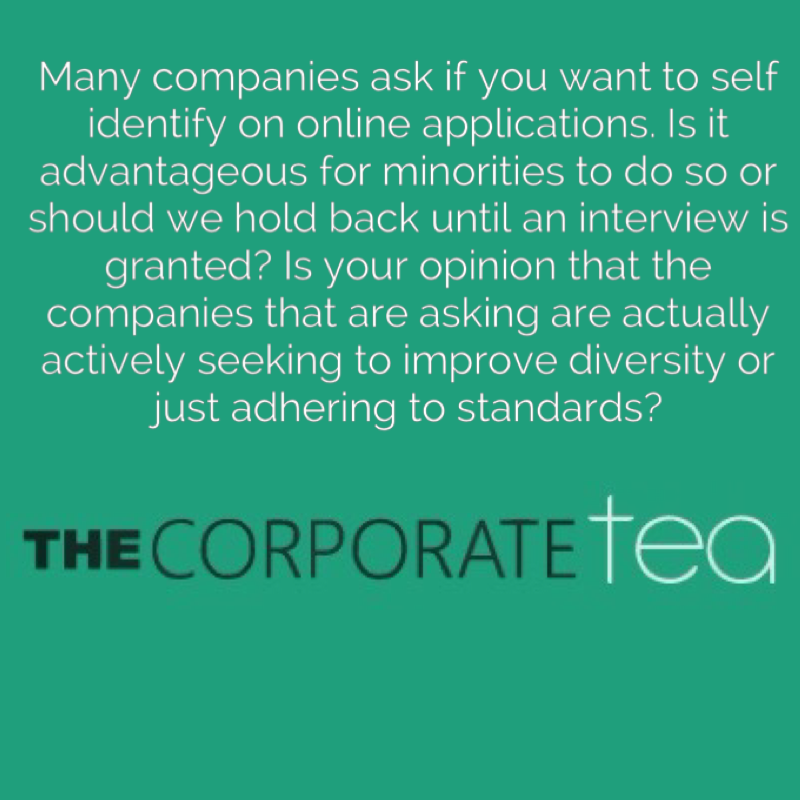 This is such a great question. Many fear that leaving the box unchecked will diminish their chances of landing an interview. Others worry that racial data provided may be used to exclude them later. However, this is actually not true in either scenario. Here's why:
For compliance, mostly. Since 1965, when the Equal Employment Opportunity Commission (EEOC) was established to enforce laws against workplace discrimination; companies that receive federal funds have been required to collect and report records of job applicants on the basis of race, color, religion, sex, national origin, disability, and protected veteran status to prevent discrimination. The mission of both entities is to ensure that employment opportunities (specifically those generated by Federal dollars) should be available to all Americans on an equitable and fair basis. This information is also used by the companies HR and diversity divisions to track applicant flow, and to monitor how successful they are at recruiting and hiring diverse applicants. Moreover, Data that is collected through ATS systems are generally reported through metrics and are not associated with your actual name … I know hard to believe for you conspiracy theorist. However, people in the hiring process have no access to that data.
So what do they do with the data?
Externally, should there be claim of discrimination against the company it will either be reviewed by the EEOC or through annual random audits by Office of Federal Contract Compliance Programs (OFCCP). These entities will require specific data around hiring practices, review qualified diverse talent against hiring data, and internally ensure there is adequate efforts to employ diverse talent (and pay them comparably) based on job classification.
Internally, even if the company is never audited or receives a claim and has to report the data, it still provides the hiring manager with information they should aware of the need. Tracking helps HR and your diversity team advocate with hiring manager, stakeholders, and the C-suite; which could reflect the need to hire more women or minorities or even white males should their diversity numbers not meet self-imposed goals. Therein by, also creating partnership and strategic programs like the creation of diversity resource groups, mentorship programs, and the company spending large dollars to recruit in the space of the underrepresented group through conferences, job fairs, and community organizations.
So my answer is…In my opinion by not checking the box you do yourself a disservice … Why you ask?
Because if you are not accounted for they can't actually track discrimination or be held accountable . The long and short of it is, they can not make you complete the form. Nor will the hiring recruiter know how you answered should you choose the option to "not disclose". However, I strongly encourage everyone to disclose! It's your only way of saying I was here, I am talented, qualified for the role and I happen to be a minority, a women, or a disabled American! So they can not say they had no options for a diverse talent.
Hope that helps!
That's the Tea,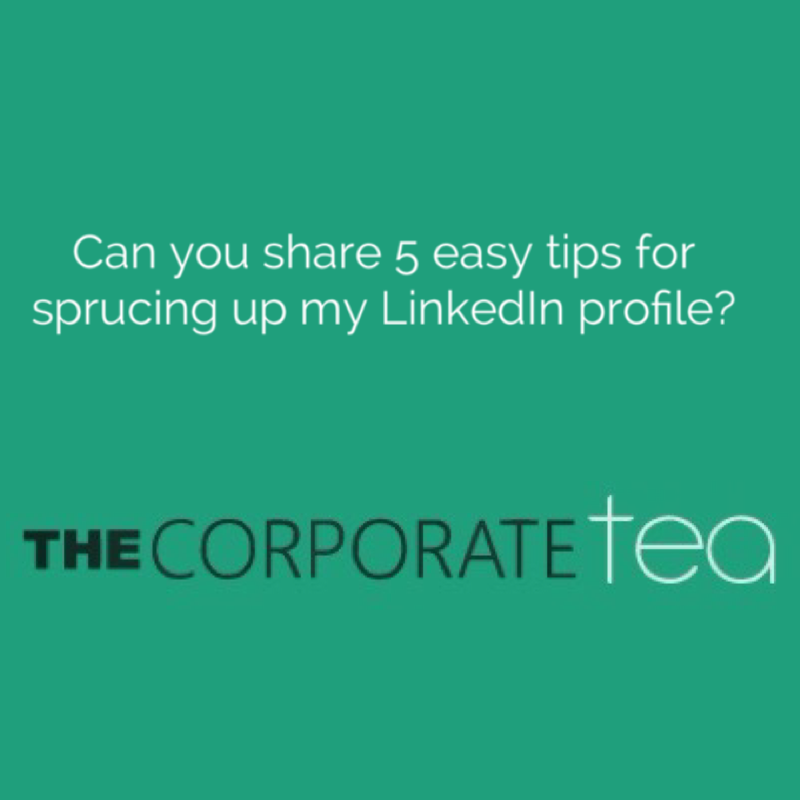 I am such a fan of LinkedIn as it relates to navigating your career. I really could talk about LinkedIn and the benefits of using this platform all day…but, you only asked for my top 5 easy tips. So, at a very basic level here are  the top 5 things you must do to be successful on LinkedIn:
1. Get a profile picture – there nothing worse than a bathroom selfie or half of your arm missing because you cropped out your ex in the picture! When it comes to your profile photograph remember pictures say a lot and not having one says even more. If, you can't afford to have a professional headshot taken you still have a few options: go to your local JC Penney's where they can take a single headshot, have a friend take a picture of you against a basic colored wall then ask a photographer or graphics design contact to simply change the background. Viola! you are in business.
2. Complete your profile – an incomplete profile is like a resume that says "TBD". If you are struggling with what to write on your profile summary use other people within your field through the search tool as your muse. Basically, stalk other professional pages for ideas. Doing this, you will learn all kinds of creative ways to tell your professional story. You can also reuse and repurpose content you already have available on your active resume or company internal profiles and convert to your LinkedIn. A couple of tips for you; your LinkedIn can be converted to PDF by pressing the button in your profile so it's like a living document that helps you also keep your resume updated. Second, don't feel like you need to include every detail of every job you have had – especially if the details dilute your experience and creditability. Lastly, include  key words in your summary which helps drive recruiters to your profile.
3. Group networking– Never thought I'd say this but "be a groupie" join as many groups relative to your industry as possible! Be sure to join groups related to your area of expertise, industry, alumni, passions, social causes, and other aspects of your identity. These will help you find jobs, network, engage in thoughtful topics, and learn about industry events. Joining groups also expand your LinkedIn network exposure which allow for more recruiters to few your page within the search function.
4.Get recommendations – A simple way to ensure your LinkedIn is credible is to get recommendations. You can simply go into your recommendation section and choose a connection and request that a connection write a recommendation for your page. A few things to keep in mind: Mr. Johnson your next door neighbor who is a bird trainer may not be the best person to endorse you as Project Manager. Also, requesting a recommendation from a high level leader in your organization you've never actually met is also highly inappropriate. When it comes to recommendations keep it HONEST, stick to industry peers, leaders you've worked for, volunteer organization you've served, and even mentor or educators who are familiar with your work ethic.
5. Get a unique LinkedIn URL – You can customize your LinkedIn profile with a public profile URL to use on resumes, to email to contacts, use on business cards, or simply for the highest google ranking when people are looking for good information on you. You want to keep it simple with www.linkedin.com/in/(your full name). Just click personalize your public profile URL on your page and create. Lastly, if you really want to make your page unique you can also add media content, power points, published documents to prove your credibility through sample work and achievement.
So there it is, my top five tips! Remember LinkedIn is not Twitter it's not about how many followers you can get but rather connecting with people with the most valuable experience and opportunities that can help connect you to your next career opportunity. Happy Updating!
That's the Tea,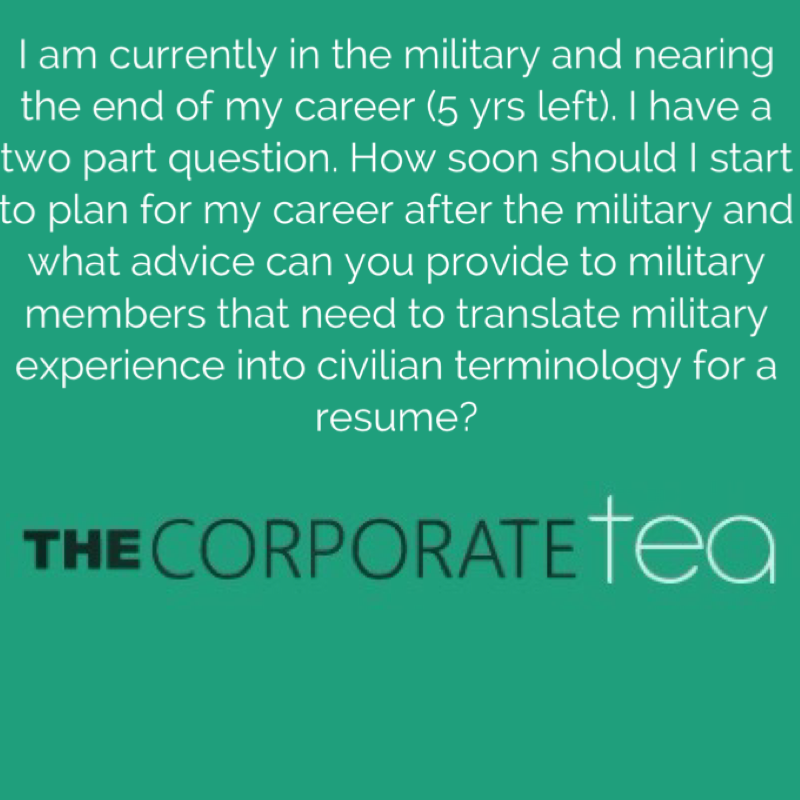 Military transition is always a tough obstacle to face but it doesn't have to be if you prepare.  Make sure you start your search at least a year out prior to exiting the military. In the civilian world it could take 6 months to find the right role so give yourself double the time for such a major shift. Giving yourself the extra time will give you the space to get use to interviewing and targeting your search. Below are my top 3 tips to help you transition:
1. Hire a resume writer– to translate your resume and create a LinkedIn a resume writer will help you with transferable skills. You should also connect with a head hunter and a recruiter who specialize in military  transition. Those types of recruiters can help set up some mock interviews or do setup phone interviews to start preparing you for civilian interview feedback (i.e. corporate communication versus military jargon and acronyms).
2. Start targeting companies –  that are veteran friendly.  There are so many companies looking for military talent that have custom transitional programs for veterans to assimilate into their company. Take advantage! Check out Forbes Top 10 Military Friendly Employers .
3. Prepare yourself on the financial shift – the difference in pay  and the shift to the civilian world as it relates to total rewards (benefits cost, bonus, 401k and what it means for salary) vary drastically. Make sure you research how much you should be asking a company for and what will be your most comfortable range.
Thank You for Serving & Good Luck!
That's the Tea,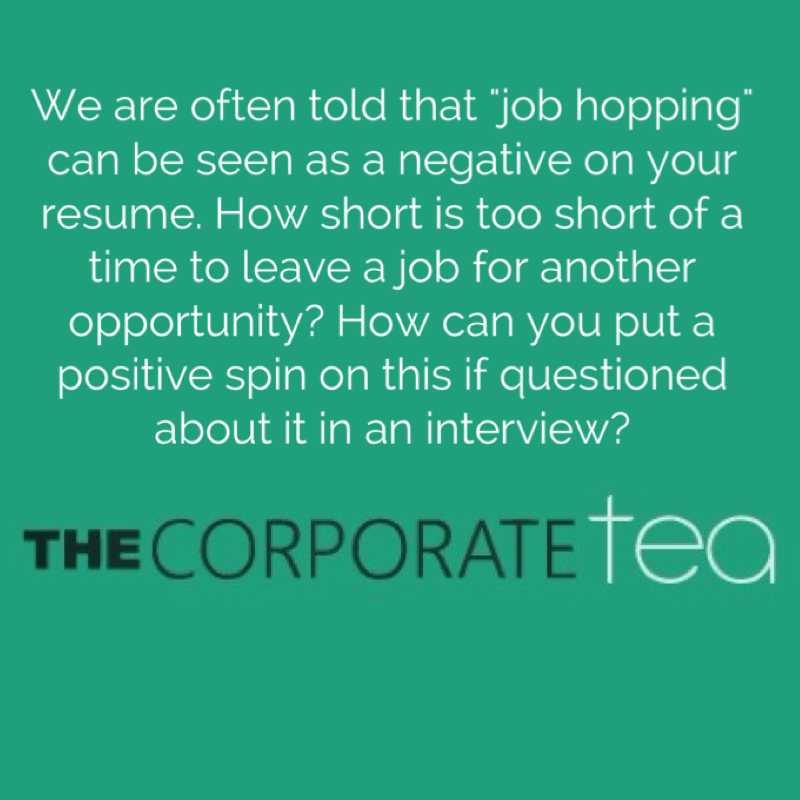 Ahhhhh, the Corporate Gypsy! Or what we call in HR the dreaded "job hopper, job ADHD, and the job jumper" applicant.  Before you get deflated that this might be you, your frequent movement may not be a bad thing depending on why you left, the reason, and industry you are in. Having prior experience as a recruiter in my earlier years I can say that I generally looked for someone who was staying with their company 2-3 years at a minimum. This timeframe tells me that  you stayed through at least 2-3 performance cycles and that you had time to truly determine fit and gain experience.  If you had less than two years with a company you can bet most recruiters will ask you why.  Below are few explanations that can help you explain:
Explanation 1: You had the no choice, the company was going through restructures or realigning the organization and it either, no longer a good fit based on changes or no had stability long-term. Transition, by ending your statement with then asking the recruiter what the stability of their company is like. 
Explanation 2: There was no room for upward mobility. You essentially, had learned all you could and wanted to move from a less tactical role to a more strategic role with room to grow. Transition, by asking about career bathing, upward mobility, and lateral experience opportunity for their company. 
Explanation 3: The role was an internship, temporary contract, or consulting opportunity that you took to gain a specific experience. Then focus on the key experienced you gained that would help their company.  
In the end whether you stayed 7 minutes, 7 months, or 7 years it's about proving why you are the best fit for the current role and articulating your experience aligned to their needs.
That's the Tea,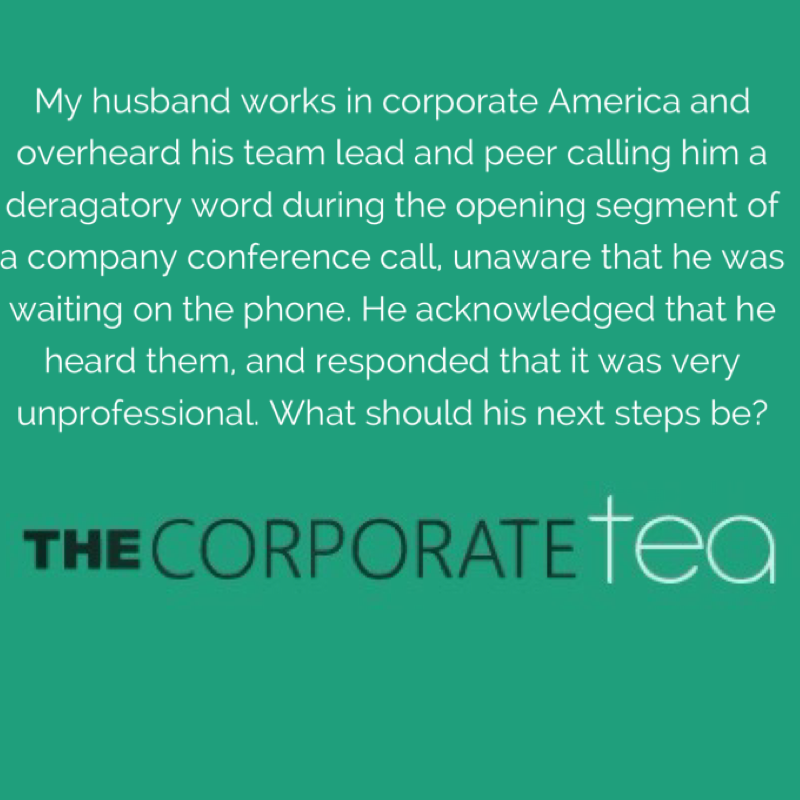 This is a very unfortunate situation and ironically more common in the work environment then you think.  Most situations that involve unprofessional behavior in the workplace are cause for report. Your company spends time and money creating handbooks and professional policies to hold everyone accountable and aligned to their core values. Most companies don't take these violations lightly,  as such I would recommend that he report the behavior to his next level leader or HR. Not doing so and keeping his feelings pent-up, may cause the situation to escalate and lead to further conflict later.  In interim he should remain professional and courteous to his peers. He doesn't want to react unprofessional either or make himself look like he is  the one who's lost their temper which will immediately minimize the other person's behavior and distracts from the initial issue. He should report the issue through his formal chain and document with a kind followup or by requesting a meeting to ensure his concern is memorialized for record. Before going in or writing an email he should put aside any personal opinions and things that don't pertain to the workplace aside and be conscious not to become overly aggressive by either defaming the other people involved to others, or placing demands because of the incident. Remember, it's not the coworker's personality that's brought to attention; it's their actions. His sole focus is to ensure the issue is addressed and the behavior is resolved. Should there be more conflict moving forward handling it professionally will give him leverage  with leaders. Hope that helps!
That's the Tea!